Features
Use courses from our library

We offer a range of engaging courses covering essential topics - all competitively priced.

Upload content that you already bought

We support all the common e-learning formats SCORM, xAPI (aka tin can) and CMI5.

Create your own with our simple-to-use authoring tool

No web design skills needed - your staff can create engaging courses in minutes. Choose from our simple templates to deliver documents, videos, images, powerpoint style lists and assessment questions. You can even export your courses as beautifully presented PDF documents for paper-based learners, or as SCORM compliant learning objects.

Management Dashboards & Reports

Our always-up-to-date dashboard provides managers with instant metrics to report on team progress and perform commonly used tasks. Use our tracking when you need to drill down into the details.

Automated Reminders

Don't waste time chasing staff - Skillsby will do this for you. Skillsby will automatically notify staff when training is due - according to your wishes.

Automatic Refreshers

Sometimes training is so important you need a refresher. Skillsby can automatically re-enrol staff to training after a defined period of time.

Fully Responsive - Tablets & Mobile

Skillsby is fully responsive, meaning users can access using their PCs, Macs, iPads, tablets, iPhone and all smartphones, while maintaining a seamless user experience. All courses are delivered in the browser which means that there are no downloads or proprietary software required to access them. Your staff have the flexibility to complete their training online at any time.

24x7 Technical Support

Our dedicated team of tech support agents are available 24x7 to answer your questions and assist with any issues you are having. All our systems utilise comprehensive monitoring, alerting and contingency processes. Our systems are secure and fully robust and used by thousands of organisations and hundreds of thousands of learners daily.

Enterprise Features

Brand it your way! Skillsby can be easily branded to reflect your corporate XYZ. Add your logo and branded certificate. You can even have your own domain name.

API Integration

We offer a fully documented API to integrate with your payroll, CRM and HR systems. Access all your staff training history securely, quickly and easily.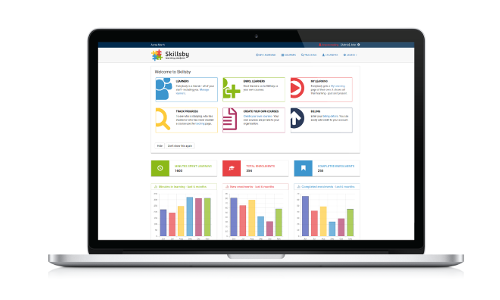 Sign up for free today!
You are a few clicks away from owning a learning management system that you love.
Join Now